Buy Now. Pay Monthly.
Split big costs into smaller monthly payments with Cherry. Let your money go further and take better control of your cash flow when you pay in installments with Cherry.
No Hard Credit Checks. No Hidden Costs or Fees
Applying does not impact your credit score! Scan your ID and see how affordable your next purchase can be.
Get Approved in Seconds
Application to approval in seconds. Cherry's completely digital process gets you out the door and enjoying your purchase in no time.
Flexible Payment Options to Fit Any Budget
Choose from 3, 6, 12, 18, or 24 month payment plans with some qualifying 0% APR options.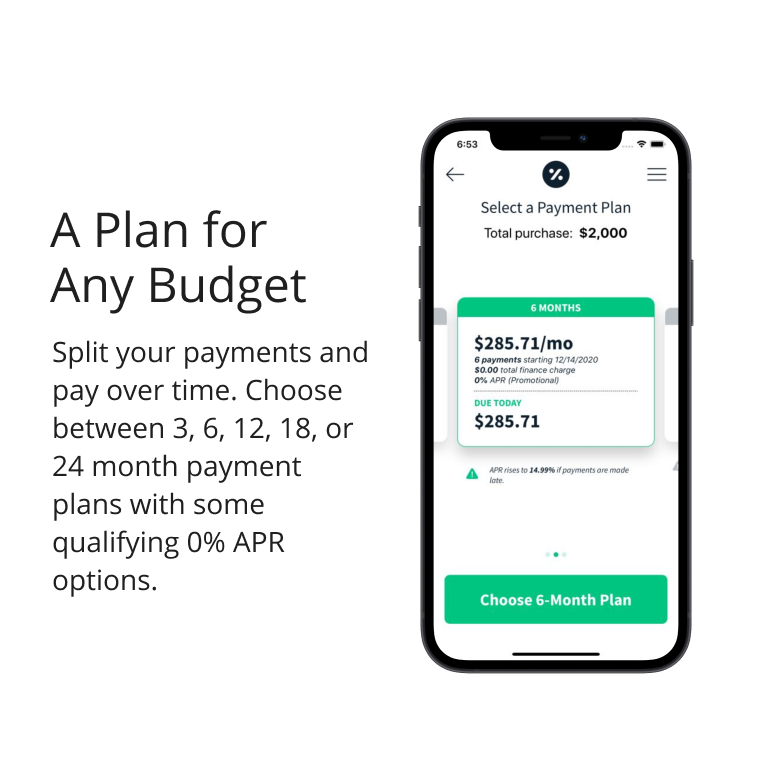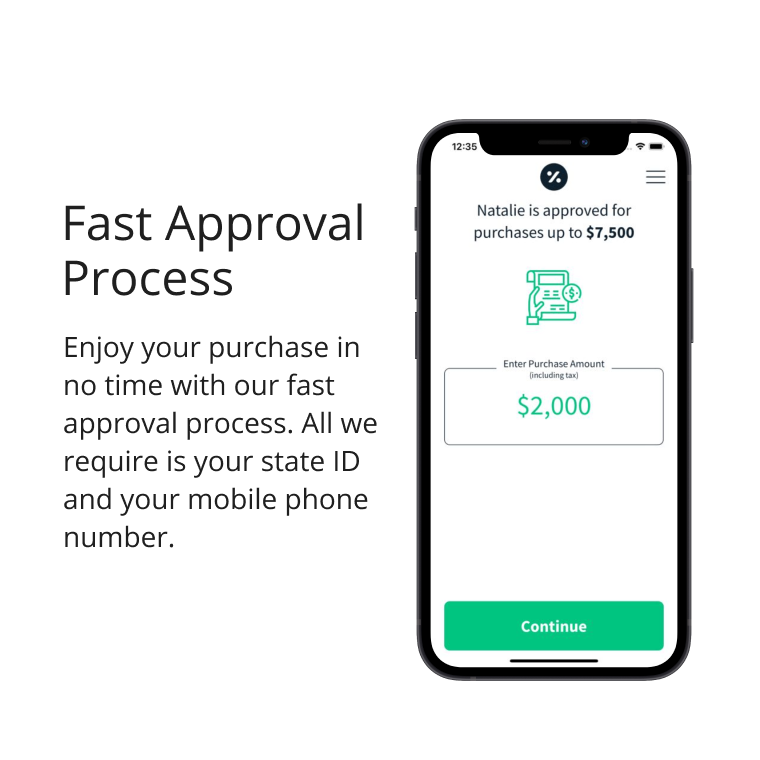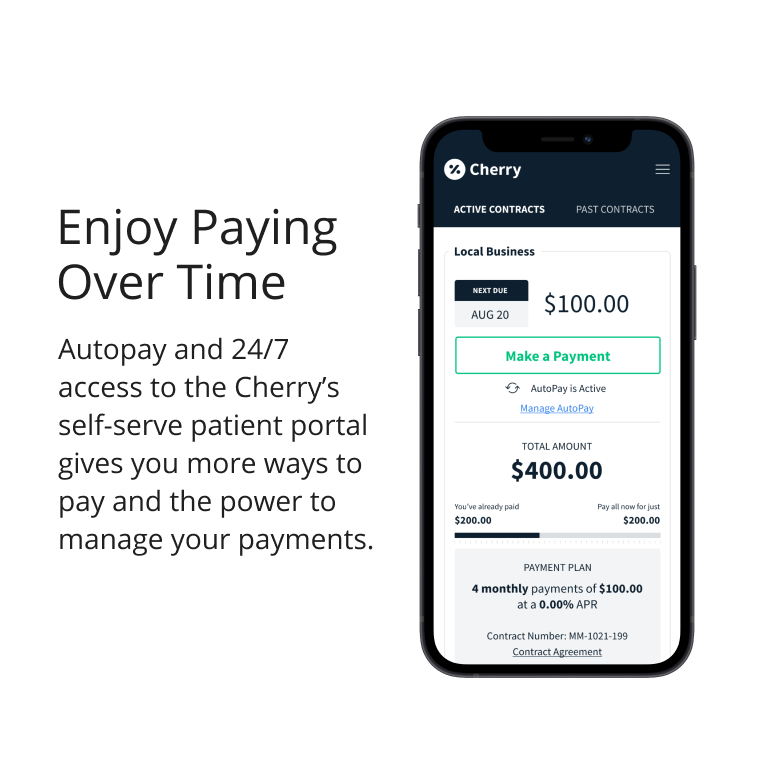 Flexible Payments For Any Budget
*These are examples only. If you pre-qualify, your terms will likely differ. Not every practice that uses Cherry will offer the payment plan terms listed above.
Payment options through Cherry Technologies, Inc. are issued by Cross River Bank, member FDIC, except in Colorado. See
www.withcherry.com/terms
for details. Colorado: Borrowers with credit scores below 660 have a $1000 max approval. Borrowers with credit scores 660-699 have a $3000 max approval and APR is capped at 20.99%. Iowa: Borrowers with credit scores below 660 cannot be approved. APR is capped at 20.99%.
Frequently Asked Questions
Do you have questions? Here are some that we often get.
I did not use my full approval amount, can I make another purchase?
Absolutely! If you keep your account current, you may redeem the remaining balance before your approval expires.
For example, if you're approved for $1,000 and only use $500, you may go back and use the remaining $500 as long as that approval is still valid and you continue to make payments on time. Our approvals are valid for 30 days.
Does Cherry report to the credit bureaus?
Yes, Cherry may report the status of our patients' accounts to Equifax, one of the major credit bureaus.
Can missing payments on my account with Cherry hurt my credit?
Once you have a contract with Cherry, we may report repayment information about your account to the consumer reporting agencies. Contracts that are marked as delinquent may have a negative impact on your credit score.
What is your policy on refunds?
Cherry contracts that are older than 60 days are ineligible for refunds through the Cherry platform.
To request a refund, please contact the practice where you used Cherry to make a purchase.
We defer to the refund policies put in place by our partner practices and cannot initiate a refund without practice approval.
How do I dispute my purchase?
If you have a complaint regarding the services or to request a cancellation or a return, please contact the practice directly to inquire about the status of your transaction. 
You are required to make payments on your contract until the issue is resolved.
Can I change my due date?
We allow a one-time due date change to a date within +/- 15 days of your original scheduled due date. To change your schedule, please call our customer service team during normal business hours (9am – 9pm EST Monday – Friday and 9am – 7pm EST Saturday and 10am – 3pm EST Sunday).
Are there any fees or penalties for paying early?
No! Your account will not be charged any fees or penalties if you pay early.
Also, if you pay off your account before the final payment is due, you won't pay any interest that would accrue over the rest of the contract, saving you money.
What are the hours of your help line?
Our support line is staffed Monday through Friday from 9am EST until 9pm EST (excluding holidays) on the weekdays. Our Saturday hours are from 9am EST to 7pm EST and our Sunday hours are 10am EST to 3pm EST. If you can't reach one of our customer service representatives, please leave a message and we'll get back to you as soon as we can.
Contact Us
Support Hours
Monday through Friday 9AM – 9PM EST
Saturday 9AM – 7PM EST
Sunday 10AM – 3PM EST
Happy Patients
We are very proud of the service we are able to provide. Here are some reviews from our happy patients.